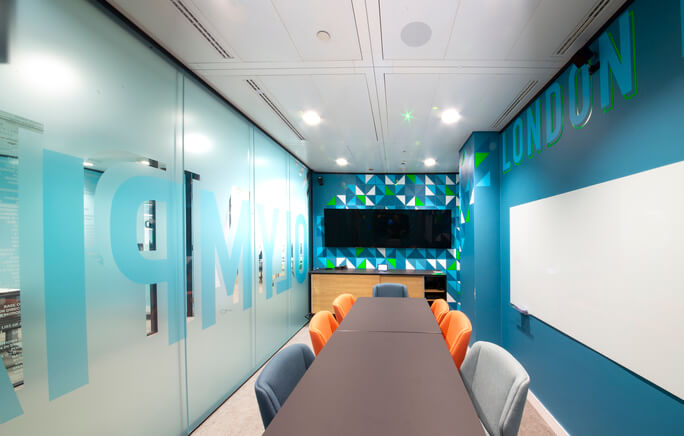 A UK company headquartered in London wanted a consistent, unique look that popped throughout their office building. They chose colorful furniture, paint, and wall decorations. They then wanted window decorations that would match their chosen style. This London company elected to install LINTEC's E-2100 ZC window graphics on the glass walls and dividers throughout their office building.
Bright Window Graphics Add Design Flair
The company decided on a colorful graphic that integrated a frosted effect, for the sake of privacy, with lettering to promote their branding, and layered the text over the frosting to create an appearance of depth on these flat panels of glass.
The window film they chose, in the spaces without frosting, is perfectly optically clear, giving the appearance that the film's design is actually part of the glass. This polyester film is also durably scratch-resistant, protecting the glass against damage on top of all its other functions.
Recent advancements in printing technology allowed the company to achieve their desired effect of both frosting and lettering. The window graphics were printed on singular whole sheets of film per surface, which works in conjunction with their incredible optical clarity to create a seamless look, as if the company had installed expensive frosted glass rather than a convenient window film.
Additionally, if this UK-based firm ever vacates this building or decides to change their décor and branding, the E-2100 ZC, like all LINTEC digital window graphics, is simple to remove. This window film was a flexible and cost-effective solution for the company to blend function and fashion in their conference rooms and beyond.