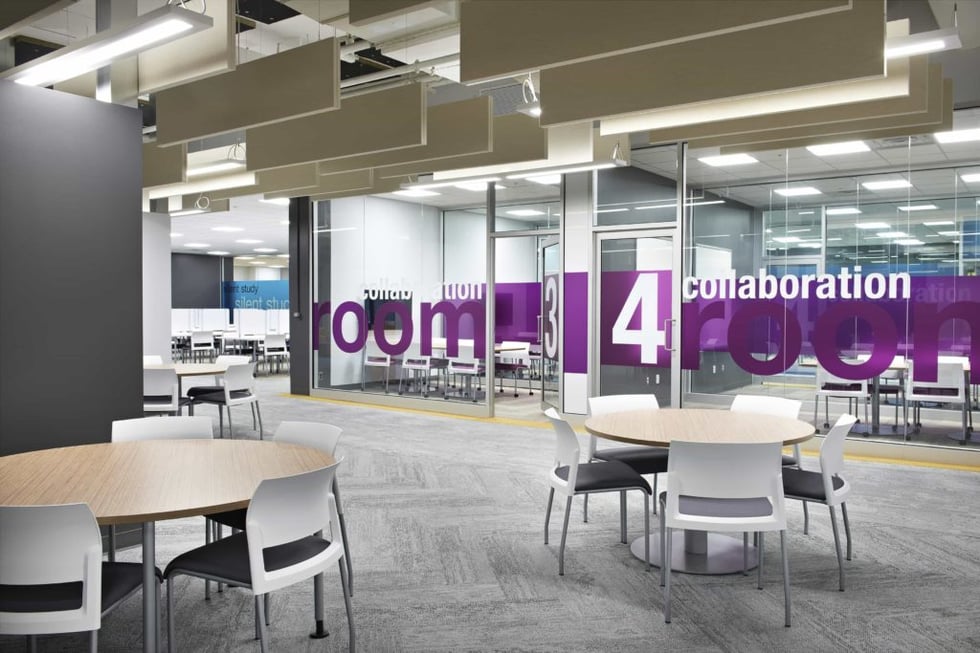 The above image was taken by one of Lintec and Digital Window Graphics' distributors in Kitchener, Canada for a project in a college library resource center. The college's goal was to decorate its conference rooms to attract students to the many resources their library has to offer.
Colleges around the world have been working hard over the past several years to bring their libraries into the 21st century. Most intend to revitalize their libraries, so they can cater to the needs of modern students.
This generally includes new technology implementation, such as high-speed internet and digital display rooms. But it also includes updating spaces with modern aesthetics, including furniture, lighting, and window graphics.
Environmentally Friendly and Optically Clear Materials
This college used E-2100 ZC (Scratch Resistant Optically Clear PET) because of its optical clarity and durability. Optically clear materials enable building designers to create privacy while allowing natural light to transfer through the glass.
Natural light can greatly benefit people working in confined spaces like conference rooms. In this setting, it was also ideal for enabling students to use conference rooms without being disturbed by other students knocking.
The project managers were also interested in products that weren't PVC-based because they are more environmentally friendly. Environmentally-friendly building products are becoming more popular as architects and building designers attempt to meet new building standards and lower their impact on the environment.
This graphic was printed by a UV curable inkjet printer and installed by professional installers that were certified by Lintec and its affiliates. Certified installers know how to use the product and get the job right the first time.
The Importance of Quality Products
Architects, designers, and building owners who need a similar installation should look for the best quality product. Quality means longevity and resistance to wear and tear. If they wish to change the design in the future, they can do so by uninstalling and reinstalling using a certified installer.
Graphics such as these have a great deal of clear space, which means scratch resistance is also very important. Scratches on optically clear spaces can ruin the aesthetic and even make it difficult to see through.
When revitalizing a library, conference room, or any other space, always look for quality products. If protecting the environment is important to you, look for PVC-free materials.