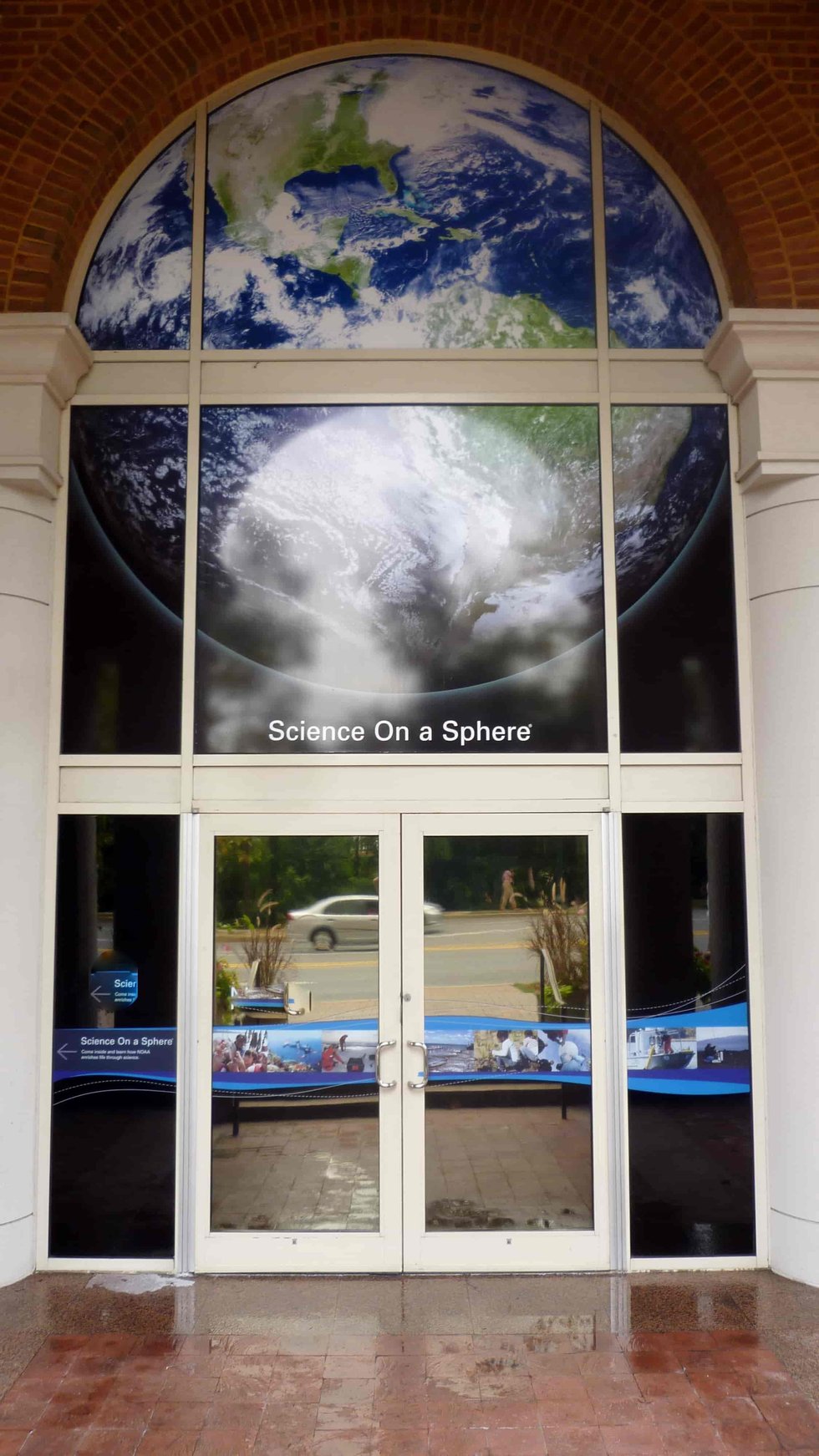 The above image was taken by one of Lintec and Digital Window Graphics' certified installers in Washington DC. The project was for an entranceway at a scientific agency.
The agency's goal was to decorate their entryway window surfaces in a way that reflected the agency's mission. They also wanted anyone passing by to be encouraged and interested in the agency and what it stands for.
In this instance, the agency needed a custom color graphics display that was durable and resistant to harsh sunlight. They chose an image of the earth, as well as a band of graphics across the doorway that reflected the agency's colors and mission.
Lintec's Digital Window Graphics are a powerful addition to any building, whether it's a business building, a residential facility, or even a government building. With several types of materials to choose from, they can be applied to exterior-facing windows and entryways to dampen UV rays while still allowing natural light to transfer. Inside a building, they are perfect for conference room glass or glass walls that separate offices.
Graphics that Block UV Light and Pop with Color
The agency chose E-2200 ZC because of the UV blocking capabilities inherent in the graphic's construction. As the graphic is facing outdoors, this was important for protecting the building's interior from harmful UV rays. In this case, the graphic was reverse printed and mounted to the inside of the glass, allowing it to avoid wear and tear from weather, wind, and passersby.
Like many of Lintec's Digital Window Graphics, this graphic was printed using a UV inkjet printer. It was also installed by a qualified installer to ensure the client would be satisfied. Qualified installers are familiar with Lintec's materials and skilled at installing them right the first time.
Upon completion, the client was very satisfied with the results.
Quality Products for Enticing Entranceway Window Graphics
These same window graphics are suitable in many contexts. Retail stores can use them to create alluring window displays, even if their external windows face the outdoors instead of the inside of a shopping mall. Businesses can use them to advertise the location of their offices. They're perfect for any city building that overlooks large amounts of foot traffic.
When branding or revitalizing a building, always look for quality products that meet the needs of your unique project. Whether you need UV protection, durability, or environmentally-friendly materials, Lintec's Digital Window Graphics can meet your demands. We'll also recommend a qualified installer in your area so you can be sure of the quality of your installation.