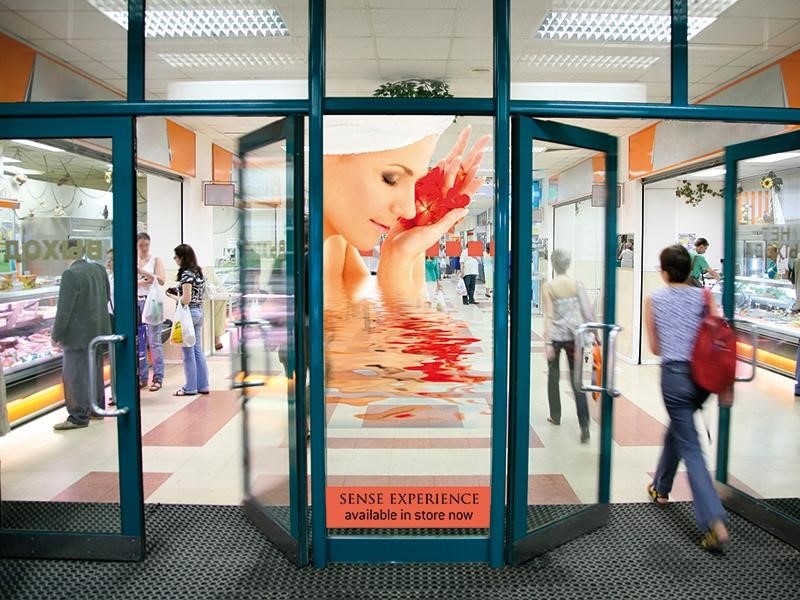 These days, retail stores are all about the experience. Although retail sales continue to grow steadily, the industry has been disrupted by multiple fronts, including changes in consumer spending the rising online shopping trend.
As more and more shoppers move their business online, physical retail outlets need new ways to engage their customers and encourage foot traffic. Retailers are looking to architects, building owners, and the designers for retail interiors to find new ways to reach the next generation of shoppers.
Head-turning window displays, stylish signage, and welcoming interiors are all popular tools for attracting shoppers and encouraging them to browse. But it' how these elements work together that creates the ideal shopping experience. Simple installations at targeted throughout a store can encourage more purchases, increase brand recall, and keep customers coming back for more. Digital retail window graphics are a great addition to any retail solution.
Window and Threshold Designs
Some retailers don't do much with their window designs, and they're missing an opportunity. Studies have shown that different types of window displays, such as flat windows and arcade-style windows, can influence the way customers shop and buy. Digital retail window graphics can make a window display more appealing, encouraging shoppers in a mall or shopping center to enter the store and browse.
When customers enter a store, an impressive display should slow them down. The threshold is the first impression a shopper will have of the store. Window graphics, tints, and frosts are useful for creating impressive glass displays at the threshold and elsewhere in the store. Branding elements, colors, and high-resolution images can also catch the eye.
Branding, Style, and Comfort
Branding should be consistent throughout the store. When a shopper enters a retail store from a mall or a sidewalk, they should be met with the same style of branding that they saw in the window outside. Window graphics come in a wide variety of colors, shapes, and textures. This variety helps them meet the branding needs of any retailer easily.
Also, more and more retailers are looking to create more comfortable stores in an attempt to eliminate shopper fatigue. Many do so with complimentary seating and natural interiors. Frosted glass can be used to dampen harsh light in specific areas and to section off store pathways to maintain the flow of organic traffic through the store.
Digital Retail Window Graphics for Privacy
Finally, digital retail window graphics are ideal for creating private areas within a retail store, whether the privacy is required for employees or for shoppers themselves. For example, most dressing rooms require some amount of privacy, but rooms separated by walls and solid doors can block lighting. This may diminish the way a shopper appears in the mirror while trying on clothes.
Windows and glass doors with window graphics allow a certain amount of light to transfer. Even glass doors with frosted graphics are useful for light transfer. Combining this technique with comfort items, such seating for friends or tables with magazines, can make for a very pleasurable and relaxing shopping experience.
Despite everything, retail sales continue to grow at a steady pace. As a new generation of tech-savvy shoppers hits the streets, retailers and the building professionals they depend on will need new tools, such as digital retail window graphics, to attract discerning customers.