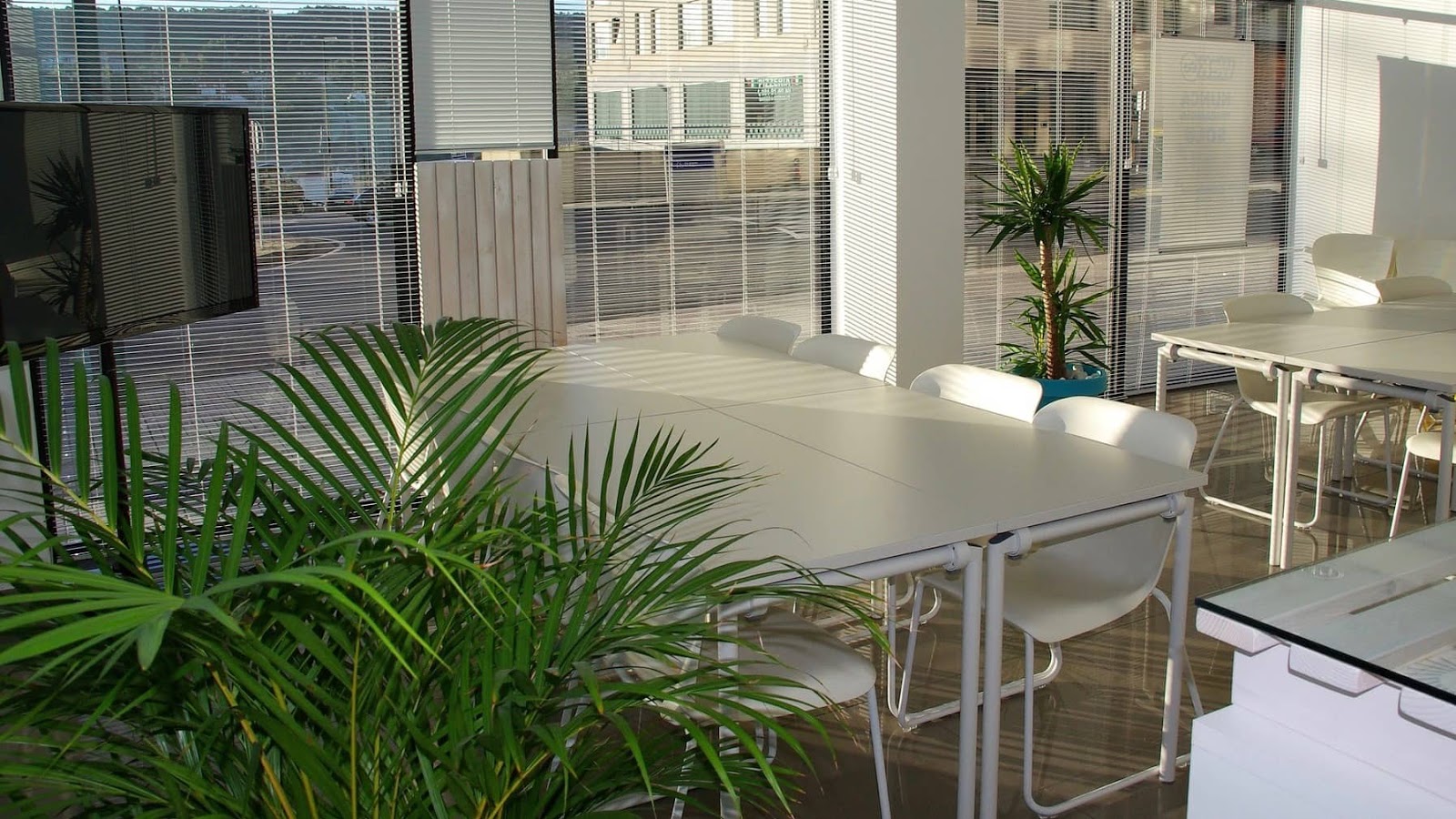 Today's modern office designs are more people and culture focused than ever. Whether it's open layouts, colorful decor, flexible work stations, or environmentally friendly design features, modern office design is here to stay.
Like Teknion says, "More dramatic and organic than the grid-based office of half a century ago, the modern office is defined by people and culture rather than an inflexible geometry." If you want your company to embrace modern, employee-focused, and environmentally friendly design features, then here are three ideas to get you started.
Plants in the Office
One of the easiest ways to promote an eco-friendly office is by bringing nature indoors. Not only will a splash of greenery invite more color into your office aesthetic, but it'll also improve the lives of your employees as well. People are instinctively attracted to the outdoors, and including plants in the office is one of the best ways to curate a healthier atmosphere.
We're not exaggerating, either! Research conducted by the University of Technology Sydney (UTS) revealed that having plants in the office "is associated with large reductions in negative mood states and levels of stress among building occupants." UTS' research also found that plantlife within the workplace can reduce feelings of depression by 58%.
Another study "found that those who worked in offices with natural greenery saw a 15% rise in productivity over a three month period." And all of this doesn't even take into account how plant life can help improve the air quality of your eco-friendly office!
Eco-Friendly Office Lighting
Everyone loves sunlight. It's known to improve mood and promote productivity, but did you know it can also contribute to an eco-friendly design? If you have large enough windows in your office, then try turning off (or dimming) your lights, opening the blinds, and letting the sunlight do the rest.
Employees will appreciate the sunlight, as a 2015 study found that people "in environments with natural elements, such as greenery and sunlight," experienced a 15% increase in their creativity and overall well-being.
Sunlight may not be able to replace your office lighting, but it can help keep energy costs low and employees happy. And when you replace your existing light bulbs with eco-friendly replacements like compact fluorescent bulbs (CFLs) and LEDs, you'll be taking yet another step toward an eco-friendly office.
Environmentally Friendly Window Films
Window films are a great way to boost your office aesthetic. They can be customized to fit your company brand and keep "heat inside the room during the winter months" and keep it outside in the summer. And thanks to LINTEC's new and eco-friendly wet apply film, they can also contribute to your office's environmentally friendly design.
With its high-optical clarity and reliable, long-term one-piece removability, LINTEC's ECO-2000 ZC is ideal for use in any UV digital and screen printing application. The facestock of this new product is manufactured with a minimum of 80% recycled PET material, which allows us to diminish the use of petroleum resources and reduce CO2 and energy consumption in the manufacturing process.
LINTEC of America firmly believes products like this can help build an exciting niche of office window graphics that can modernize your office with intuitive and environmentally friendly design features. To learn more about how this new window graphic design can help add to your modern office design, get in touch with us today!