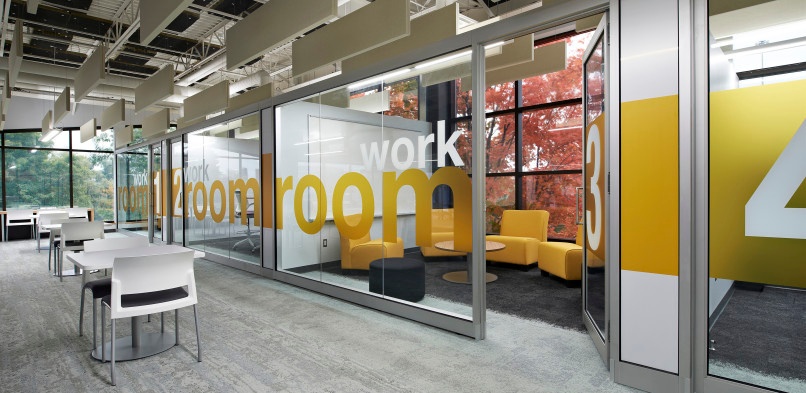 Print service providers around the world love UV printing for its versatility and its ability to produce prints at rapid speed. UV printing doesn't require any coated media, which can help printers save money that they'd normally spend on additional materials. However, UV inks have historically been difficult to conform to certain types of materials, like vinyl and scratch resistant window film.
Thanks to advancements in the materials that make up decorative films, printers can now use their UV inkjet printers for even more decorative glass applications, including on scratch resistant window film.
Scratch resistant window film is useful for a number of applications. From a practical perspective, they protect glass panes from scratching and exposure. They are often used in higher-traffic interior areas, such as for retail displays or in busy offices.
UV Curable Printing and Solvent Inkjet Printing
Solvent printers have long been relied upon for printing on durable film. They're typically used for outdoor displays like vehicle wraps and outdoor window graphics as well as indoor displays. They can print on many uncoated materials. But solvent inkjet printing comes with some drawbacks.
UV curable printing is attractive because the ink doesn't dry in the same way as solvent ink. The carrier isn't evaporated, either. By curing it with ultraviolet light, printers don't need to worry about fumes.
Many businesses and organizations want the benefits of attractive, optically clear films as well as the protection that scratch resistant window film offers. Printers who have invested in UV curable printers can now provide them with those services using their new equipment.
UV Curable Printing and Latex Inkjet Printing
Latex inkjet printers produce durable prints that are used for both outdoor and indoor applications. They have a reduced impact on the environment because of the water-based formulations of latex inks. Latex printers don't produce many harmful substances, so there is no need for extra ventilation.
However, most latex inkjet printers use high levels of heat to dry the printed media. They require a great deal of energy, which can lead to extra costs for the print service provider. Commercial printer suppliers have made advancements that reduce the energy cost and the heat necessary dry latex inks. Nonetheless, UV printers are still attractive because of their low energy costs.
Selecting Scratch Resistant Window Film for Your UV Curable Printer
Scratch resistant clear and optically clear polyester films are now available for UV curable printing. These are best used for indoor applications. Depending on the need, these films come with a number of different adhesive types, including:
Air Egress Adhesive
Permanent Adhesive
UV Permanent Adhesive
UV Removable Adhesive
Ultra Removable Adhesive
Other types of conventional decorative films are available for UV curable printing, including:
Decorative Polyester films
PVC Films
Contact us for more information about our optically clear materials or visit our products page.