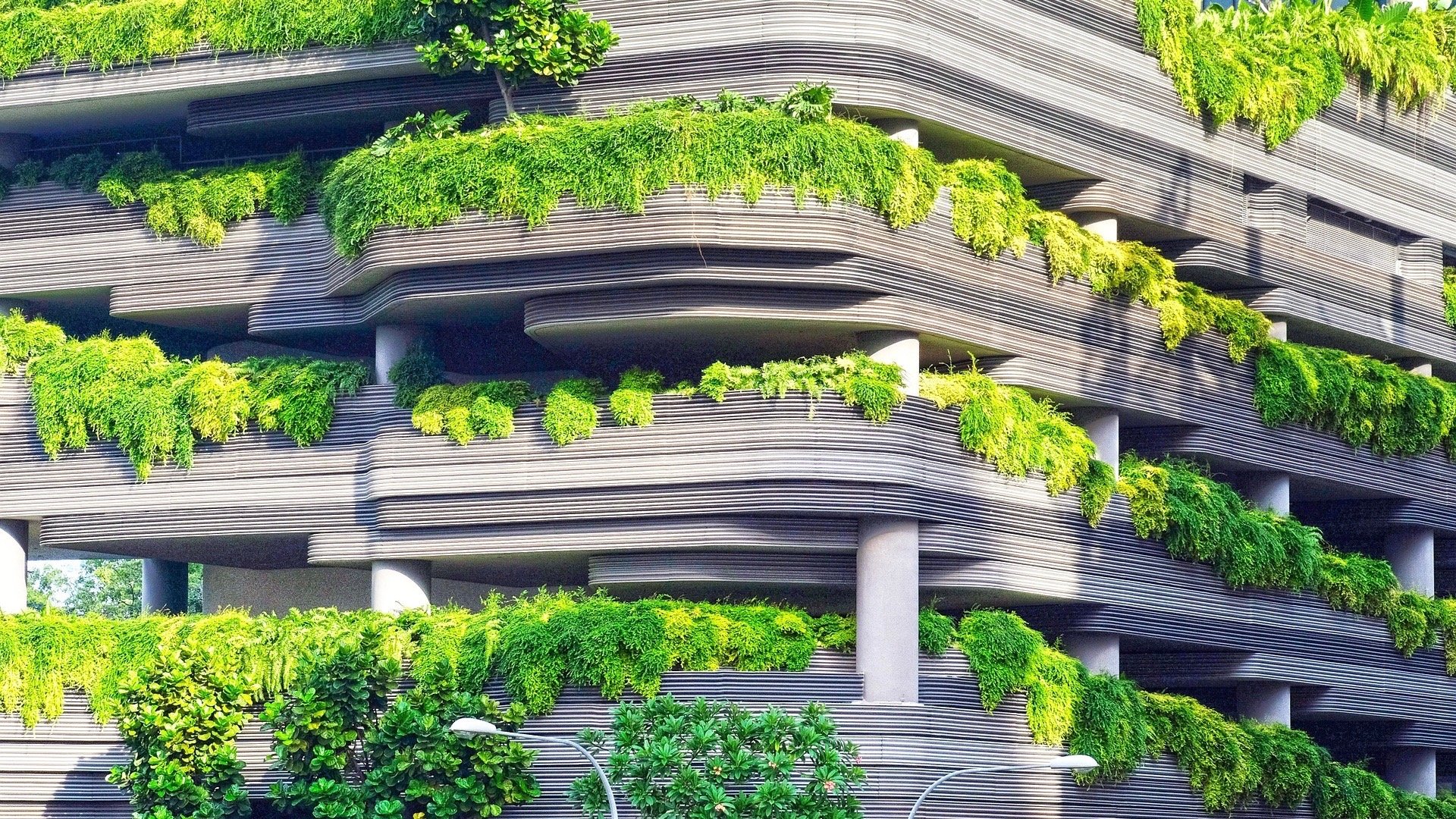 Green architecture is not only about incorporating lush green plantlife into a structure (although that's rarely a bad thing), but about taking the carbon footprint of a building seriously. Sustainable energy solutions like solar electricity and wastewater recycling are critical technologies, and the use of sustainably sourced, biodegradable, or recycled construction materials can take a building to the next level. Even the little details—like eco-friendly window graphics—can add up to a sizable impact on a green architecture design.
We love the following six paragon green architecture examples from around the world, which embrace these principles and might inspire your own sustainable architecture design:
1. Vancouver Convention Centre West (Vancouver, Canada)
Image Credit: Vancouver Convention Center
This Canadian convention center was the first building of its kind to earn a prestigious double-LEED-platinum designation. A lot of creative, environmentally conscious design went into this genius green architecture example, including:
Rooftop grass and plantlife that insulates interior heat in the winter and reduces heat build-up in the summer
4 honey bee hives built into the roof to pollinate the structure's grasses and plants
A sloping roof that aids in rainwater drainage and seed distribution
A full-scale marine ecosystem (crabs, salmon, shellfish, and more) around the piles supporting the structure over the water
2. Bosco Verticale (Milan, Italy)
Image Credit: Stefano Boeri Architetti
In Italian, "bosco verticale" translates to "vertical forest." The full-grown trees, shrubs, and ground-cover plants that dominate the facade of this deluxe apartment building acts to improve air quality within the city by absorbing thirty tons of CO2 and producing nineteen tons of oxygen each year. The volume of plantlife on the building exterior is estimated to have an equivalent effect to 215,000 square feet of lush botanical forest. This isn't even to mention the psychological benefits of a home with so much greenery and wildlife—including more than 15 different species of birds—right outside your window.
3. Eastgate Centre (Harare, Zimbabwe)
Image Credit: Alamy
This marvel of green architecture design was actually inspired by termites. The architect worked to recreate concepts used by termites to keep mounds at a more constant temperature with traditional Zimbabwean masonry techniques. Mick Peace, the architect behind the design, employed biomimicry of these insect geniuses to build a shopping center that has no need of conventional air conditioning or heating systems. This building achieves year-round comfort for occupants while drastically reducing energy costs for tenants.
4. DPR Construction Regional Office (Phoenix, Arizona)
Image Credit: Mastorakos photography
It's not often that green architecture examples earn both the Net Zero Energy Building certification and the LEED-NC Platinum certification. This DPR regional office in Phoenix did this by incorporating a total of 87 windows that open or close according to humidity levels and indoor insulation needs. The solar chimney (with 87 feet of zinc-clad potential) keeps air moving to cool or warm the building as necessary. On top of that, 82 solatubes route real sunlight into the building for all-day natural illumination.
5. The Crystal (London, England)
Image Credit: wikipedia.org
This gorgeous glass-enclosed LEED Platinum structure (operated by Siemens) has a BREEAM Outstanding Sustainability rating for the way it collects, manages, and re-uses energy and resources. For example, the Crystal collects rainwater from the roof, illuminates the interior with natural light all day, harvests solar energy, and uses fluorescents and LEDs to supplement on dreary days or at night. The insulation-glazed thermal roof panels help to cool the interior, and all blackwater from the building is recycled (for a total of 90% water self-sufficiency).
6. The Change Initiative Building (Dubai, United Arab Emirates)
Image Credit: Planet Custodian
This commercial structure in Dubai has been called the "World's Most Sustainable Building." UAE-based organization The Change Initiative (TCI) was able to score a ridiculous 107 out of 110 LEED points with this innovative building, beating Australia's Pixel building (which has 105). Green architecture examples are present throughout the 4,000 square meter shopping complex, including:
Solar panels
Heat reflective wall paint
Recycled construction materials
Water collection and re-use systems
Low-energy lighting
In all, 40% percent of energy requirements for the building are supplied by the 26 technologies (from water systems to roofing and energy efficient lighting) that supply it with sustainably sourced on-site energy. CEO and founder of TCI, Dundeep Singh, is proud to have achieved the top position for sustainability in a location that was thought to be completely impossible—the deserts of the UAE.
Want to learn more about how green technologies and recycled materials, such as our eco-friendly window graphics, can impact your building's sustainability? Follow our blog or give us a call at LINTEC of America!