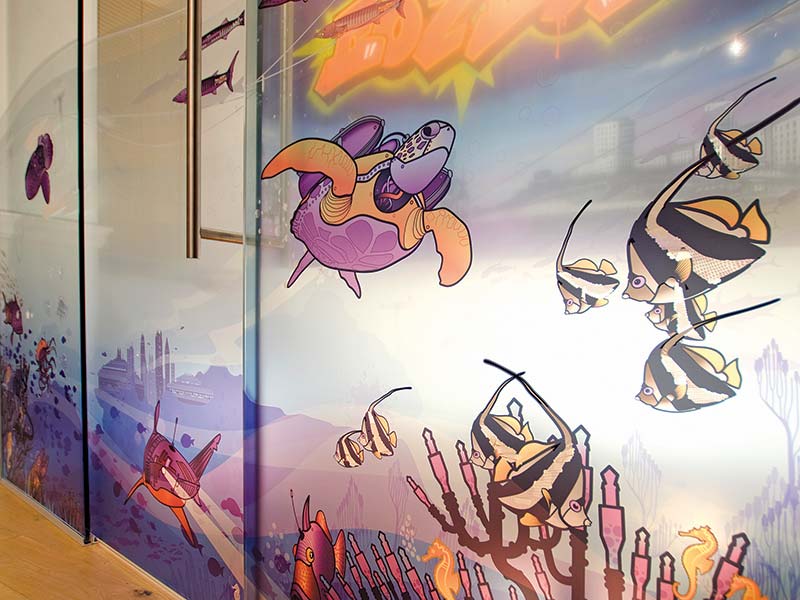 If you're planning to decorate your space with window graphics and are considering using products made from recycled materials, you may be wondering how they stack up when compared to standard fare. Let's break it down and compare traditional window films with their environmentally conscious counterparts.
Appearance
Many customers may think that the quality and clarity of recycled graphics will be less than graphics made of non-recycled materials. However, eco-friendly window graphics are just as optically clear as any other virgin films on the market.
Cost
In past years, products made from recycled materials were much more expensive than less sustainable versions of the same item, because their materials are more costly to source. So is this the case with eco-friendly window graphics? Not at all. Window graphics that are made using recycled materials are available at the same affordable price point as any other window graphics.
Customization
Something that so many people love about window graphics is that they're incredibly versatile and customizable. Printable window films can be designed to look any way you desire. You can also apply frosting effects which are useful for creating privacy in spaces like offices that have a lot of glass architecture. Can environmentally conscious window graphics be customized the way that regular window films can? Yes, of course. Eco-friendly window graphics are totally customizable. They can be made in all of the same varieties as other films.
Durability
When installed under the appropriate conditions, window graphics are incredibly durable and long-lasting. Window films made using recycled materials have the same quality and longevity.
Production and Composition
When it comes to materials, the difference is obvious. Traditional window graphics are made out of either vinyl or polyester. Producing standard graphics requires a higher amount of energy and resources. In contrast, eco-friendly window graphics are made of 80% or more recycled materials, specifically polyester. They also use 40% less energy during the production process than the standard graphics. The materials and energy used to create the graphics are the only meaningful differences between the two types of film.
Overall
Historically, manufacturers in the graphic arts business that have seen cost increases associated with creating and producing greener products. The more eco-friendly the product, the pricier it was to produce. With recycled polyester printable film, this isn't the case. The abundant supply of reusable plastic drives affordability and accessibility. We are proud to be able to offer eco-friendly window films at a cost-effective pricepoint.
LINTEC produces the premier eco-friendly window graphics on the market. To see a sample, request your free swatch book. To get some eco-conscious window films of your own, contact our team today.