Glass has become a staple in commercial architectural designs in recent years. Its omnipresence can be easily observed by looking at any city skyline. While there are many architectural and aesthetic benefits to utilizing glass as a central design feature, the presence of significant amounts of glass in commercial spaces can pose some difficulties as well.
Office buildings, for example, with glass walls and glass offices have a wonderful open feeling, but they can also present a few practical concerns for the people occupying them such as sun glare, intensifying heat, and an elimination of privacy. If you're looking to preserve the beauty of a glass building glinting against the skyline or seeking to maintain the sleek modern aesthetic of an all-glass interior space, while mitigating the pitfalls of working in a glass office, window graphics could be a great option for you.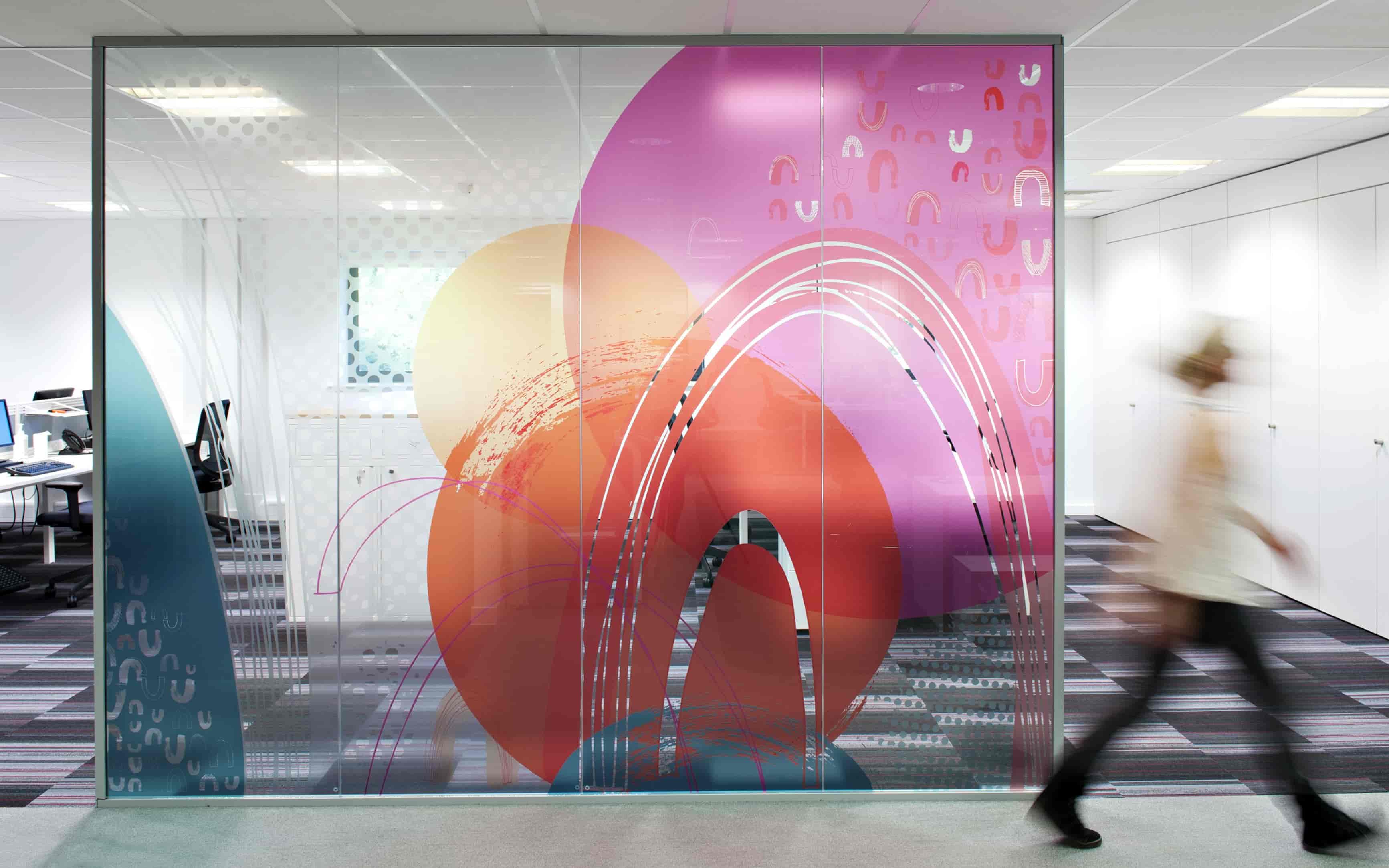 What are Window Graphics?
Window graphics are printed films used to protect and decorate glass surfaces like windows, doors, dividers, and walls. Polyester films can be scratch-resistant, so beautiful glass office layouts won't be marred by the glass getting smudged or scratched. They can also be digitally printed to display images and patterns.
Window graphics come in several styles and varieties, so you can install the film that makes the most sense for your design.
UV Blocking Window Graphics
An optically clear UV blocking window film, once applied to glass, isn't visible without careful observation, which means you can install them and the aesthetics of a space will remain unchanged. The function of a UV blocking window film is to prevent fading of rugs, furniture, and pictures. Additionally, it protects the image printed on the film and ultimately makes the graphic easier to remove.
Printed Window Graphics
If you're looking to amplify aesthetics, window graphics with printed images and designs are available. These images can be opaque or translucent depending on the needs of the space. Printed window graphics are well-utilized in retail spaces and in office environments that need a boost in vibrancy. They can be an efficient way to create beautiful offices while sparing your decorating budget.
Vision Control Film
Perhaps the most versatile window graphics option is vision control film, which can appear clear or frosted depending on the angle. These window films are ideal if you're looking to increase privacy but aren't interested in an opaque printed film. With vision control film, and window graphics in general, your options are virtually limitless.
The Benefits of Vision Control Film
Vision Control Films have a number of benefits in addition to the array of design options that they present to architects.
The films are:
Easy to install*
Durable and long-lasting
Easy to remove
Environmentally friendly
Cost effective
Non-damaging
* Contact us for best installation practices
If you're looking for a simple way to enhance the glass in your architectural designs, review our products or get in touch with our team today.