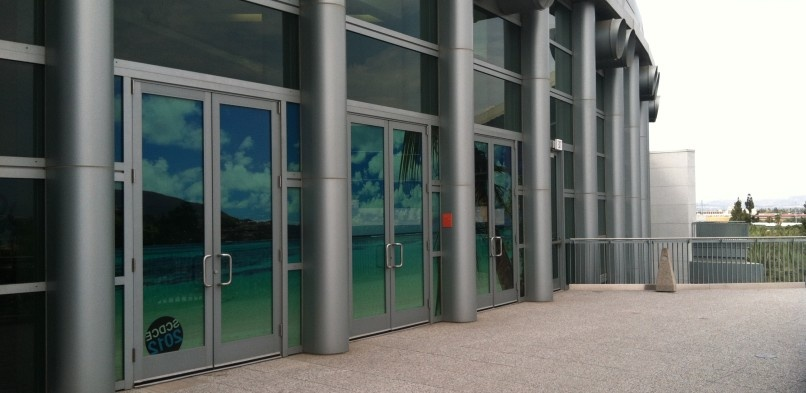 Sunlight can be both a welcoming presence and a nuisance in a professional setting. On the one hand, natural lighting can make an interior space feel more inviting and uplifting. When you allow sunlight to come into an office, workers can be more productive and satisfied.
On the other hand, too much UV radiation in sunlight can lead to secondary issues. UV radiation can cause the ink on window graphics to fade over time, along with furniture or carpets.
You can focus on the positive aspects of natural lighting while reducing the drawbacks with the help of UV-blocking window film from LINTEC of America. With our UV protective adhesive layer, light can come in without damaging the colors and vibrant graphics on your window film.
What Is UV Blocking Window Film?
As the name suggests, UV-blocking window film is a protective layer that blocks UV radiation while allowing visible light to shine through. Think of it as sunscreen for your windows. An optically clear window film with a UV-blocking adhesive can allow bright natural light to filter through and only block the most harmful UV waves.
At the same time, it's possible to use UV-blocking adhesives on printed window films, which will also block a portion of the visible light with graphics, frosted textures, or other patterns so the interior isn't as bright. Both options are suitable for offices, although it really depends on the mood and atmosphere you're trying to create.
Benefits of Using UV Blocking Window Film
If you're on the fence about applying UV-blocking window film to your office or building, here are a few advantages it can offer:
Protect & Preserve Window Graphics: When using UV-blocking adhesive, the window graphic will generally be applied on the interior side of the window. This means that sunlight hits the adhesive first before UV rays get to the ink on the graphic. This layer of protection preserves bright colors for the long haul.
Protect Interior Decor: UV radiation doesn't just impact your window graphic — it can also cause damage to sensitive items like rugs, furniture, electronics, and other decor. A UV-blocking window film keeps everything safe.
Protect Occupants: Finally, UV-blocking window films offer the same protection from harsh UV rays to occupants of the building. It's like wearing sunscreen without needing to apply anything to your skin.
Why Combine UV Blocking Window Film With Digital Window Graphics?
Although UV-blocking film is valuable on its own, you can enhance your building's interior spaces by incorporating digital window graphics that will last longer with UV protection. Some design examples can include:
Logos and Branding
Corporate Culture Imagery
Artwork and Digital Illustrations
Ads and Promotions (aimed at clients or passersby)
Print your own privacy glass
Adding these design elements allows you to improve the look and feel of your office or building. Additionally, even just using simple frosts or patterns can change the appearance of the interior by bathing it in softer light and offering increased privacy.
Businesses can also take advantage by using window real estate to promote specific products or services or just reinforce the overall corporate identity.
Buy UV Blocking Window Film From LINTEC of America
Still not sure if window film is right for your needs? Feel free to check out some of our other customer success stories to see how these products can be deployed to great effect. Plus, seeing how other clients have used UV-blocking film with digital graphics can inspire you to discover the perfect design for your needs.