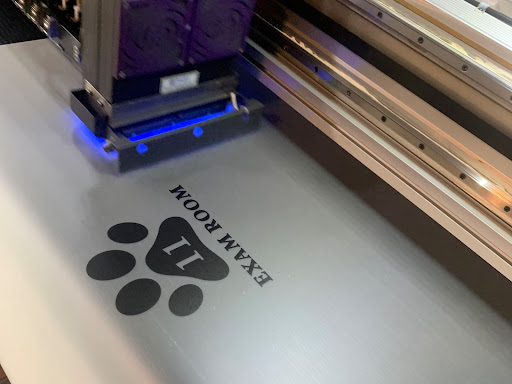 UV or Eco solvent printer? Which one should you use when you need high-quality decorative window films? Discover the differences between each method.
What is UV Printing?
UV stands for ultraviolet light, which refers to the curing method for this type of printing. In this case, the printer uses a special ink that dries when exposed to UV light. So, instead of needing heat and time for the image to dry, UV printers only need a high dosage of ultraviolet light.
Advantages of UV Printing
Many companies prefer UV printing because it's faster and can generate sharper images in the final product. Overall, generating more prints in less time is much easier, and the process is much more streamlined and safer for employees.
LINTEC of America adds a scratch-resistant coating to each polyester window film to protect the image and help extend the product's lifespan.
Another advantage of UV printing is that it can work for all kinds of jobs, both large and small. For example, printers can use it for everything from labels to large window films. Plus, UV ink works on a variety of substrates, including paper, polyester, and more.
Finally, because the drying time is so fast, prints are dry and ready for finishing as soon as they come out of the machine.
What is Eco-Solvent Printing?
Eco-solvent printing involves the use of lighter solvent-based solutions to transfer the image onto the substrate. This method used to be the standard for larger window films, but it comes with a few significant disadvantages.
Solvent inks need time to dry, and they can get smudged or ruined by brushing the print against something. Also, if the printer doesn't use a substrate designed to absorb the solvent, the liquid can bleed and cause rough or blurred edges.
Advantages of Eco-Solvent Printing
Although Eco-Solvent printing is less efficient than UV printing, it generates some spectacular imagery. Eco-Solvent inks are excellent at producing translucent graphics, such as stained glass applications. Once the ink dries, it can make decorative window films really pop with richer, deeper colors. This happens because the solvent absorbs into the substrate, adding depth to the image. By comparison, UV inks dry so fast that they remain on the surface.
Use LINTEC of America for All Your Decorative Window Films
Whether you use UV or Eco-Solvent printing methods, LINTEC of America can provide the best materials for your decorative window films. From offices to retail spaces, these films can transform an interior. If you want to see what our films are capable of, get your free swatch book today.