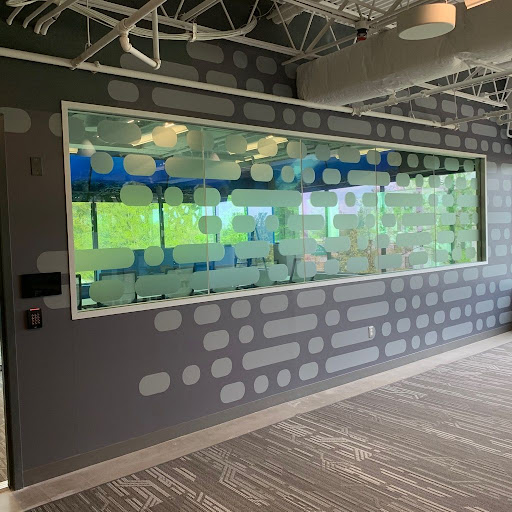 While many printers and businesses today love the idea of easy-printing, instant-drying, UV-curable window films, it's now possible to get decorative window films that are of exceptional quality and sharpness with plenty of unique options now compatible with UV inkjet printers. That adds fresh decorative choices, making it easier than ever before for these films to achieve the right combination of quality and protection.
If you're considering using a UV-curable polyester window film, here's what you need to know to confidently choose the right UV film material.
There are More Decorative Window Film Options Than Ever Before
One of the biggest pros to these films is that there are so many of them. UV curing technology has come a long way from basic tint shades and nothing else, making it much easier to choose something you like. Providing options means more businesses can find the style, pattern, and design that works for them.
Additionally, it's easier to have something custom-created, giving a business the look it's really going for without compromise. Because the look of decorative window film has steadily grown sharper and more detailed, it's possible to add an aesthetic touch to glass office partitions, put bold graphics on the front window, and more, without expensive processes to add these features directly to the glass. Today's films are optically clear around graphics and far easier to install than printing onto the glass itself while creating the same seamless and beautiful visual effect.
LINTEC offers a variety of UV-curable window films so you can get the size and type you need for every kind of application. From a small business customer who wants a pattern and design on a front window to a larger company with a big building and expanded needs, you're at no loss to find wide-format or other unique sizes and types of curable window films.
You Can Combine Scratch Resistance With UV-Curable Choices
Another big pro of UV-curable polyester window film options is their high durability. If you're worried about not being able to achieve a scratch-resistant option in a UV-curable film, you should know that's not a problem anymore. With today's scratch-resistant film that's designed for UV printing, you can have the best of both worlds.
It's all too easy to scratch a normal window film when it doesn't have the right coating, especially in environments where something rough or sharp could make contact with the film. Even a squeegee can scratch some window films, and you want to avoid that damage. Cleaning the windows frequently adds to the problem and quickly makes the windows look dirty from the scratches.
By choosing UV-curable window films that have scratch-resistant properties, you'll reduce the chances of your windows looking bad and protect your film for a much longer period of time. It's no longer necessary to choose between reducing scratches and having the option to use UV-curable film.
No Need to Sacrifice Longevity for the Efficiency of UV-Curable Film
In the past, it wasn't possible to use UV-curable film with graphics in a way that worked for long-term use. Now, using UV-blocking window film with graphics is much more common. That's another big pro of using them, and it's a great way to protect the inside of your business from sun damage while also protecting the graphics on your windows.
You don't have to worry about the graphics fading out quickly, so you can have them last a long longer before replacement is necessary. That's a good way to add additional value to the graphics and to encourage the use of UV-blocking and UV-curable window films for business applications, too.
Working With the Experts Helps Enhance the Pros of This Great Film
Ready to learn more about whether UV-curable window films are right for your needs? The experts at LINTEC can help you find the right film for every application. Request a free swatch book today!