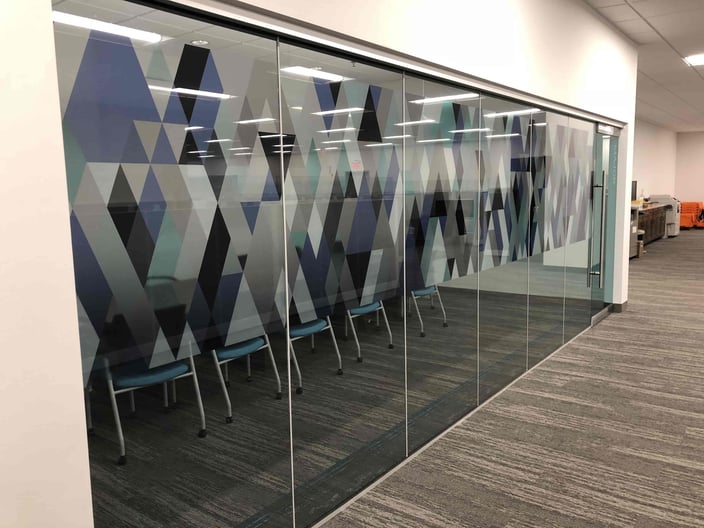 Typically, when clients want decorative window film, it's to make a space look good or to promote the brand. However, just because a film is decorative doesn't mean it can't be practical. Another common reason to use window film is for privacy purposes, so why not combine the two?
Discover how you can merge decor and privacy with high-tech window film options from LINTEC of America. No matter what your client's needs are, we have the right product for the job.
How Do Graphic or Printable Window Films Help With Privacy?
Printable window films work by obscuring an individual's view while allowing light to come in. This option works well for situations when privacy is crucial but an organization doesn't have to invest in high-tech measures.
Examples of Privacy Using Decorative Film Windows
There are a couple of types of window films that can work for a wide variety of applications, such as:
Vision Control Film - VCF is a unique product that changes the visibility of the glass depending on the viewer's perspective. There are 4 versions of VCF, as one example, if someone is standing in the middle of the glass, it's clear. However, if the person moves to one side, the view becomes opaque. Vision Control Film is best for areas where privacy is necessary, but individuals still need to be able to see through the glass. One example could be apartment windows where residents can see outside, but pedestrians can't see in.




Frosted Mistlass Film - Frosted film on glass is versatile and practical for tons of privacy situations. Bathrooms, executive offices, inventory store rooms - each of these locations can benefit from having translucent windows while obscuring a person's view. When it comes to decorative privacy window film, products like Mistlass are ideal because they're customizable.
Benefits of Using Decorative Privacy Window Film
Privacy films like VCF or Mistlass are often deployed in square sheets that cover the glass from top to bottom. However, it's also possible to incorporate decorations in two different ways. First, you can print a design on the film itself. Second, you can trim the material into unique shapes, creating an opaque outline.
Both VCF and Mistlass are perfect for printed designs that can be both practical and stylish. Some examples of how to use these products include:
Branding - Companies can incorporate their logos or graphics onto the film to use it for promotional purposes.
Building Signage - Signs or instructions like Exit or Conference Room can be printed directly on the film, making it easier for users to tell where they are.
Artistic Expression - Decorative window film enhances interior spaces by adding colors and shapes to the visual landscape. Everything from corporate offices to retail display windows can be beautified while also allowing for better privacy.
Easily removable in most indoor conditions.
Have Your Clients Upgrade Their Spaces With Privacy Window Film
With the durability and versatility of privacy film windows from LINTEC of America, your clients have endless possibilities about how to use them. You can also see these products up close by getting a free swatch book. No matter your client's needs or goals, our graphic window film media is sure to exceed their expectations. Contact our sales team when you're ready to place your first order!