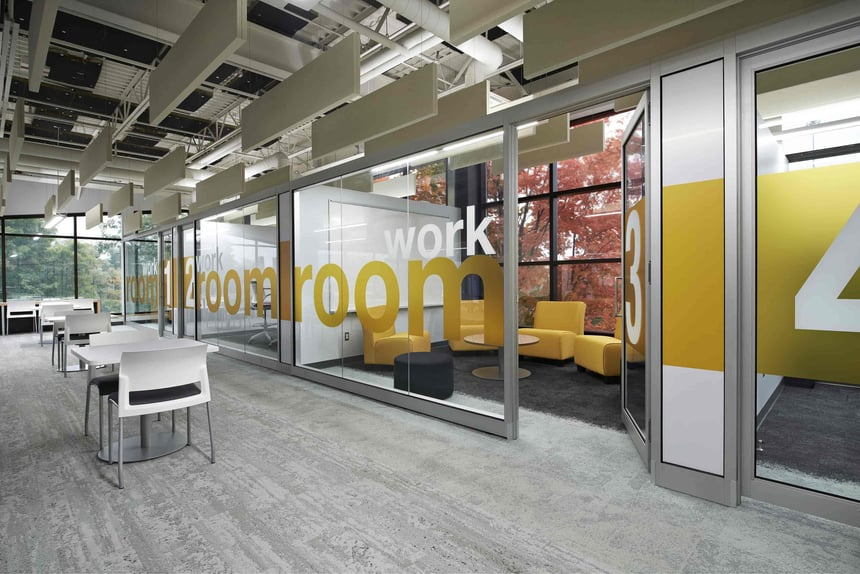 Upgrading the office space can often start with a look at fresh decor options — artwork, furniture, a new coat of paint, and the like. Decorative window graphics are an excellent option that can transform a workplace immediately. Your imagination is the limit on the customized designs and shapes that you can use to enhance your space. Decorative films are highly versatile; they're ideal for lobbies, private offices, storefronts, conference rooms, and more.
Here's a closer look at four things you can do with bold, decorative window films to improve the office right away.
1. Privacy
One of the simplest ways to add privacy to a glass-walled office or meeting room is to use frosted window treatments. A decorative window film makes this possible without the expense of replacing or treating the glass. Plus, when working with a digital printer, you can access customized shapes and designs such as cutout lettering or logos to add visual interest.
If you want an even more remarkable type of frosted glass, you can use Vision Control Film from LINTEC of America. This film is opaque and frosted in appearance, but turns clear depending on the angle of the viewer, adding dynamic and versatile options. Have a glass-walled office on the second floor that needs privacy from the street but plenty of natural light? Set up Vision Control Film to look frosted from below but clear to the horizon and the sky.
2. Morale Booster
If your office has bare walls and neutral colors, it can make the workplace feel drab and boring. There's no need to overcompensate with bright paint in every room. Decorative window films can elevate the look and feel of an office immediately. Plus, when working with a digital printer, you can explore designs such as:
Branded Imagery: Reinforce your corporate culture by using branded images or graphics on windows and interior office glass.

Landscapes: Adding some natural scenery to a break room or meeting room can help workers relax and feel more grounded. You can also enhance this effect by adding potted plants to different areas around the office.

Artistic Designs: Digital window graphics can come in all shapes, sizes, and colors, so there's no limit to what kind of artistic flair you can add to your interior glass. You can even work with a printer who offers design creation for a customized graphic solution.
3. Wow Customers and Clients
Neutral-looking office space can not only feel uninspiring to employees but also looks uninviting to customers and clients. If you're hosting clients at the office regularly, an investment in high-quality decorative window films can add a wow factor that reinforces your client relationship. Support your brand image and company culture while helping customers understand where you're coming from and what you can deliver.
4. Improve Lighting While Staying Eco-Friendly
These days, offices are looking for more natural ways to regulate the interior environment and help control energy costs. Not only is green architecture a thriving movement, but glass architecture and natural lighting can help drive down utility costs. Fortunately, eco-friendly decorative window film can enhance your glass and your green initiatives. The right solutions will help you:
Create Softer, Diffused Lighting: Harsh lights can impact worker productivity, so it's better to use soft, diffused light instead. Decorative window graphics and frosted glass films can allow you to use natural lighting in a gentler fashion, improving the overall atmosphere of the space — and productivity!
Ask for Digital Window Film From LINTEC of America
If you're ready to see how decorative window films can elevate your workplace, now's the time to contact your local digital printer. Also, be sure to ask for digital window film from LINTEC of America, as it will be more cost-effective, durable, and easier to apply. A new office is just a phone call away!