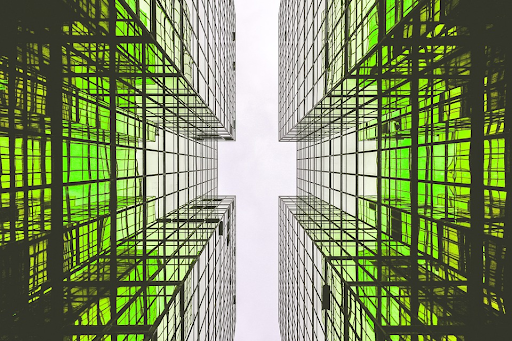 While "sustainable" may have begun as an industry buzzword, today it's a key component of the green building architecture movement. Emissions and efficiency standards continue to tighten as we aspire to neutralize our carbon impact, requiring a careful eye for compliance in every design. More ambitious green architecture projects are also leading the way as every sector of the economy makes meaningful strides towards sustainability.
Successful green architecture examples from around the world continue to inspire new ideas and trends. Read on to learn about the standards for green building, how you approach a new sustainable project, and which green building materials to give top priority.
---
Table of Contents:
---
LEED Standards For Green Building Architecture
The Leadership in Energy and Environmental Design (LEED®) rating system was designed by the USGBC to evaluate sustainable architecture projects and award up to a maximum of 110 LEED credits, along with a prestigious LEED certification at certain credit thresholds.
LEED Certification Levels:
LEED Certified: 40-49 credits
LEED Silver: 50-59 credits
LEED Gold: 60-69 credits
LEED Platinum: 80+ credits
The credits assigned by the LEED rating system are intended to measure the sustainability of the building project (or the existing building — any structure can undergo a LEED certification process at any point in its life). There are multiple variations of the LEED rating system, and the one that applies to your project's certification will depend upon its location, design, intended purpose, and other factors.
LEED Rating Systems:
Building Design and Construction
Interior Design and Construction
Building Operations and Maintenance
Homes
Cities and Communities
Neighborhood Development
LEED Recertification
This list is not exhaustive, although most green building architecture projects will use standards from one of the above systems as a part of their application for LEED certification. Within each of these sets of standards, credits are assigned in accordance with performance in defined categories such as the nine below.
LEED Assessment Areas:
Sustainable sites
Water efficiency
Energy and atmosphere
Materials and resources
Indoor environmental quality
Awareness and education
Integrative process
Location and transportation
Regional priority
Each individual area can contribute substantial credits towards your certification through strong performance. Up to 18 LEED credits, for instance, have been associated with energy efficiency (supported in part by the use of eco-friendly window film).
How to Approach Green Architecture Design
The scale of your project will not affect your design so much as the priorities you set and the materials you select. Whether you're trying to promote an eco-friendly office or working on a world-leading pinnacle of green building architecture, the approach is similar. Here are some of the features to look for and priorities to consider.
Emphasize Green Building Materials
You can start with assessing the materials you'll be working with. On the spectrum from conventional solutions like recycled plastics to the more experimental and outlandish — like synthetic bricks filled with microorganisms that extract resources from sunlight, water, and air — there are wide-ranging options for sustainable and eco-conscious building materials.
You'll want to consider re-used, recycled, or reclaimed materials, of course, but sustainably harvested resources or durable materials that will require little to no maintenance or replacement throughout the building's life are also a net positive. As the Whole Building Design Guide (WBDG) asserts, any materials that are "durable, and have low maintenance requirements" are just as preferable as those that "incorporate recycled content (post-consumer and/or post-industrial)."
Whichever LEED rating system you've selected, meaningful credits are on the table for efforts to incorporate local, regional, rapidly renewable, recycled, and otherwise low-waste materials.
Design For Efficient (Or Even Renewable) Energy
The construction phase is only the first consideration for green building architecture. The building's energy performance throughout its life will arguably have an even bigger impact in the long run. According to the IIASA, commercial buildings are responsible for more than 30% of the world's energy demands. Anything you can do to mitigate the building's constant reliance on outside energy sources will help.
Rainwater reclamation systems and solar panel arrays are excellent examples of renewable energy systems that tangibly regenerate the resources used within your building. However, these complex (and potentially costly) systems are not the only way to design for energy efficiency.
A resource as simple as natural light, for instance, is infinitely renewable and can reduce your green building's reliance on electricity and artificial lighting. Glass-dominant architecture with appropriate measures for insulation and ventilation can go a long way towards reducing the energy costs associated with the structure.
Eco-friendly window films are a simple and cost-efficient compliment to a glass-heavy building design that can support the sustainable goals set by the AIA and EPA as well as broader green building architecture principles. They provide you with:
Post-consumer recycled materials
Reduced resource consumption
Assists in accumulating LEED credits
Reduces glare and heat in high-daylight designs
Select Eco-Conscious Suppliers & Manufacturers
Your partners on the project are an important consideration. Work with suppliers, vendors, and manufacturers that offer renewable and recyclable products and commit to sustainable initiatives in their practices. This has an indirect, but important impact on the green building architecture movement by supporting the businesses that align with your goals and encouraging others to emulate them.
LINTEC takes sustainability seriously. Our focus on renewable and recyclable window films can help your project to reduce carbon emissions, cut down on petroleum consumption, and scale back the energy required for production. Decorative films, window graphics, and frosted privacy films also help to support a high-glass design by enhancing occupant comfort and reducing glare while allowing for natural light to penetrate the structure with stunning clarity and customization. This all adds up, and your project reaps the green benefits.
Choosing Green Building Materials
Prioritizing sustainable building materials during construction can be a major source of LEED certification credits and will surely help your project reduce its total environmental impact. The LEED system describes criteria for green building materials in each of six categories:
Reused materials
Recycled-content materials
Local/regional materials
Rapidly renewable materials
Certified wood
Low-emitting materials
You'll be recognized for the percentage, in aggregate, of your project's materials that are drawn from these categories. There are many options that can be sustainable, attractive, and functional, all at the same time.
Traits to look for in your materials should include conservation of material (materials that last a long time or re-use existing material), environmentally preferable materials (such as biodegradables or materials shipped with low emission impact), and materials that cut down on waste management (they won't go to a landfill at end-of-life).
Recycled Goods Are Low Risk, High Reward
Building construction consumes 3 billion tons of raw materials every year. It's a best practice to use recycled materials whenever and wherever possible, from the steel rebar in a concrete structure's frame to the company logo window graphic on the wall of the second floor conference room.
Many materials needed throughout your green building architecture project can be brought in from pre-existing sources. Consider common recycled building materials such as these:
Recycled or Reclaimed Steel: As the most recycled of all building materials (

98% of structural steel gets recycled

), it should be easy to source eco-friendly steel for structural supports, framing, and other elements that require steel's strength.
Recycled Glass: A versatile green building material, recycled glass is not only useful for windows and doors, but for glass concrete, tiles, backsplashes, insulation, glass mulch (landscaping pebbles), and more.
Reclaimed Wood: Keep existing lumber out of landfills by reclaiming it — and potentially adding aesthetic value to your project at the same time. Reclaimed wood is ideal for framing and flooring, but also an attractive choice for custom furnishings or decorative elements.
Recycled Plastics: Reduce waste from plastic water bottles and other sources of PET plastic waste by sourcing eco-friendly plastic goods that use a high percentage of recycled plastics. LINTEC's eco-friendly window films (made mostly from water bottles) use less energy, produce less solid waste, and generate fewer greenhouse gases in production than either glass bottles or aluminum cans.
Bring Your Vision of the Future Into Reality Today
It's never too early (or too late) to get started with green building practices. Small, immediate steps such as furnishings and window treatments made from eco-friendly recycled materials add up to a sizable impact across the globe.
If you're looking for ways to reduce your carbon footprint with innovative, green building architecture, reach out to like-minded suppliers and manufacturers today and see what options they may have to support your goals.
LINTEC of America is committed to sustainability and our diverse line of eco-friendly window graphics and window films made from post-consumer recycled PET plastics are available for you to sample. Get in touch with our team to discuss the needs of your project and how our films can make it look great while doing their part to make your building sustainable.